At the end of the summer, a quilting friend and I went on an Alaskan cruise! The timing was perfect and the weather was too!
I was 'dark' while traveling - but kept a journal of each day. Today we are going to pretend it's all ahead of me! Let's go to Alaska!!
First of all, let me explain why this is a driving trip to Seattle (where our ship departs from). Our small Crescent City airport is currently waiting for a new airline contract to start. So our choices were to drive to another small airport - either 2 1/2 hours OR 3 hours away. We could also drive to Portland, 6 hours away, but only 3 1/2 hours from Seattle. There were no cheap rates and a whole lot of quilt shops between us and Seattle ... I think you get my drift!!
I picked up U at 7 am and off we went. Our first break was at Coos Bay, McDonald's for smoothies and the bank for the rest of my "mad money". We are enjoying the blue skies and light traffic this am.
We stopped for a stretch at the Elkton Butterfly greenhouse, part of Fort Umpqua grounds. Oh my, there were hundreds of Monarchs flying around; a few Painted Ladies and all of them big and beautiful. I'd been there a few weeks earlier with the grandkids. More butterflies were active now.
Sent the grands this photo-text - "Hey kids, can you guess where we are???" They got it in one!
The the first stop on our Quilt Shop Hop -
Fabric Farm in Drain Oregon
. We got their
Row by Row
pattern and saw a good selection of Modern fabrics! Then we had lunch at the Albany Burgerville. U's first time and the Walla Walla onion rings were awesome!
I had a camera dilemma this trip - I love taking pictures with my Ipad. But it's really awkward and easy to drop. Would hate to lose it after getting that perfect shot over the guardrail on board! AND the memory isn't that big.
We have a good Nikon D50 (the last camera made without the viewfinder on the screen!!!) But it's card only holds 350 pictures. I was unsuccessful finding any bigger memory cards that worked in our local stores. So we must stop in a Beaverton camera shop. They say D50s don't work well with large memory cards, but they have a 2gig one that might work.

BUT what if it doesn't work?? I will take more than 320 pictures (the first day!!) and without WIFI that would be it! So I packed the(heavy) laptop so I could download each day's shots.
We stopped at the Beaverton store, tried the memory card and it works! Wahoo!! And realized that I was really going to miss that Ipad! Suck it up, Buttercup!! We're going to Alaska!!
Trying to get back easily to I5, I saw how close we were to Acorns and Threads needle work store. We made a quick stop and picked up the
Prairie Schooler
2015 Santa - their last one. I'm going to miss this (these) designers. They did the best faces without 1/2 or 1/4 stitches!! Thanks for all the years of great yet do-able designs!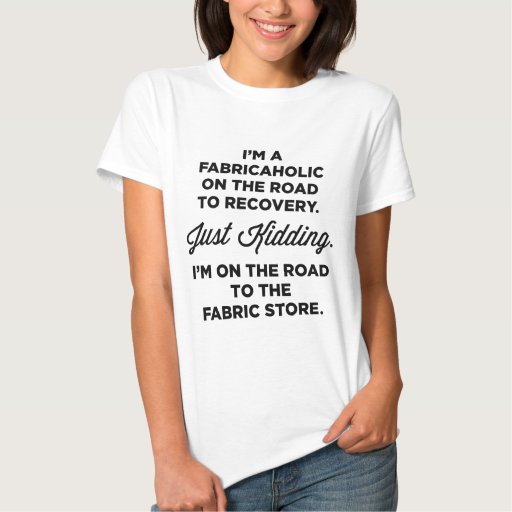 I'm sorry to say, we then joined a HUGE traffic jam (it was only 2:30! Good Grief!) We'll be referring to this situation as "The Party" from now on! But we persevered and made it to
Fabric Depot
. Found some goodies on the outside patio sale area. Yea, sale!!
I'm on a mission - as always! I'm looking for fabrics with words on them. OR simple very graphic designs. I've been collecting for a year (or so) I have plenty, but it's addicting!! (Help me! I'm collecting fabrics and I can't stop!!!) Or as the t-shirt by Zazzle says!!

I'm still trying to decide on what pattern to make with these prize fabrics ... If you've seen some dynamite patterns using these fabrics - let me know!! I'll put them on the list to think about!!
Back to the giant party on 205, it was now approaching Rush Hour (?) but easily found our first Top 10 Quilt store in Vancouver Washington.
Fiddlesticks
. And after finding 2 text fabrics on sale (score)... they gave us directions to Olive Garden. We had soup and breadsticks for dinner. Perfect.
We drove for another hour to the Kelso Red Lion - it was huge and we got it cheap. Yea!
That was not bad for our first travel day!! 12-ish hours, 350 miles, 3 quilt stores, 2 yummy meals and a great hotel to stay at!! Good night